Railers beat themselves against Mt. Zion

Send a link to a friend Share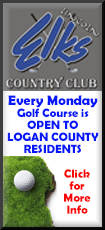 [September 01, 2018] By Benjamin Yount, photos by Shari Sparrow

LINCOLN – Lincoln junior quarterback Dreyden Pozsgei had just scrambled for a first down with about nine minutes to play in the game.

The Railers were 1st and 10, from the 11 yard line, and looking like they were going to bring Friday night's game against Mt. Zion to within three points.

Four plays later, Mt. Zion had the ball and the game was essentially over.

In between there were two penalties against Lincoln and a missed pass.

Missed opportunities, Lincoln coach Matt Silkowski said.

"There are no excuses. We just didn't play well," Silkowski said after the game.

Lincoln was plagued by penalties, turnovers, a few calls that didn't go their way, and long periods of the game where Lincoln just beat themselves.

It's not like Mt. Zion played much better.
The Braves fumbled the ball, had a touchdown called back, and squandered several opportunities through the night.

Mt. Zion scored just six points in the first half, all from field goals, and gave Lincoln the momentum heading into halftime.

Senior linebacker Austin Sparrow said the defense held tough through the first half.

"We played a great game, but there are obviously some things that we need to work on," Sparrow said. "We gave up some plays we shouldn't have. We could have held them to less. There was always the possibility of a shutout. So we have work to do."

Sparrow leads the Railers in tackles so far this season. He's built a reputation as a heavy hitter, and has at least four colleges looking to possibly bring him on next fall.

But Sparrow and the defense could not do it all.

While the Railer offense was able to move the ball from their 20 yard line to Mt. Zion's 20 yard line all night, they stalled out each time they got into the red zone.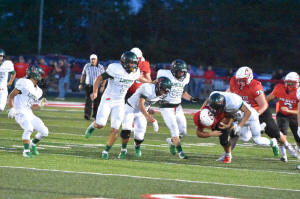 A gang of Railers chase down a Mt. Zion ball carrier. Friday night was the second straight game where Lincoln held their opponent to under 14 points.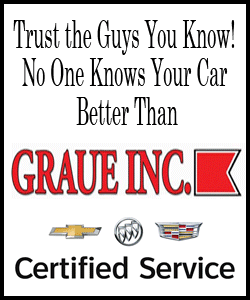 Lincoln's only points of the game came with 7:24 left in the third quarter, on a 29 yard field goal from Alex Bogdanic. At that point the game was only 6-3.

The game stayed a three point nail-biter for another eight and a half minutes.

But with about 11 minutes left in the 4th quarter, Mt. Zion's junior workhorse running back Sage Davis broke a 25 yard run to put the Braves 1st and goal from the five.

Two plays later, sophomore quarterback Ashton Summers tossed a touchdown strike to classmate Drew London for a touchdown.

The game was 13-3.

But Lincoln drove the ball down the field.

That was the point when Pozsgei had the team on the 11 yard line and poised to score before it all fell apart.

Coach Silkowski told his team after the loss that with a 1-1 on the season, their goals are still possible.

But, he said, it will take a dedication that the team has not yet shown.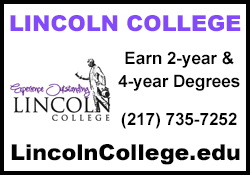 "We need to take everything that we do seriously. And we need to have a want to win, a want to get better," Silkowski added. "The guys can't just flip the switch on Wednesday that 'Oh, we have a game. Now it's time to get ready'."

The loss drops Lincoln to 1-1 on the season. Mt. Zion improves to 2-0 this year.

Lincoln travels to Mattoon next week to take on the Green Wave.

Mattoon High School lost Friday night in a blow-out to Mascoutah High School, 42-7. That loss dropped Mattoon to 1-1 on the season.